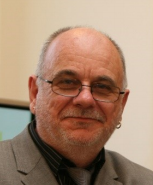 Simon Mahony
Professor of Digital Humanities
Executive Director of the Research Centre for Digital Publishing and Digital Humanities, Beijing Normal University at Zhuhai;
Visiting Professor, Department of Information Management, Peking University;
Emeritus Professor of Digital Humanities, Department of Information Studies, University College London (UCL);
Visiting Research Fellow, Department of Digital Humanities, King's College London.
Professor Mahony was instrumental in the establishment and development of the highly successful and innovative graduate programme in Digital Humanities at UCL, working as Programme Director from its launch in 2011, taking over as Centre Director in 2017 until moving to Zhuhai in 2020. He has lectured extensively and published widely on education and pedagogy in the developing field of Digital Humanities. He has now joined the team at Zhuhai to help develop this new research centre and to make it an international one.
Before UCL, he worked (2001-2009) as Research Associate at the Centre for Computing in the Humanities (now the Department of Digital Humanities) at King's College London, teaching a range of technical and non-technical modules to undergraduate and graduate students.
Other appointments include:
Corresponding Member of the Sub-Committee on Education and Research (SCEaR), UNESCO Memory of the World Programme.
Member of the iSchools Consortium committee for Digital Humanities Curriculum Design;
Advisory Board for the University of Cincinnati's Digital Scholarship Center (DSC);
Advisory Council of Panta Rei, Revista digital de ciencia y didactica de la Historia at the University of Murcia;
University of London's Centre for Distance Education.
Associate Fellow at the Institute of Classical Studies (School of Advanced Study, University of London).
For a list of selected talks and keynotes see:https://www.ucl.ac.uk/information-studies/research-0
For publications see: ORCID: 0000-0001-9811-9381